Sewing Workshop - Simple Fabric Storage Box – Saturday 22nd April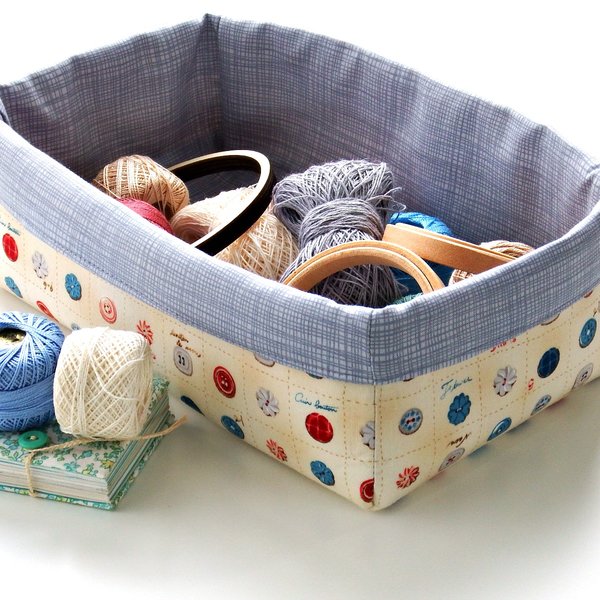 Sewing Workshop - Simple Fabric Storage Box – Saturday 22nd April
Come and join us for our modern, fun sewing classes at Hollies Haberdashery! The atmosphere will be supportive and encouraging with the emphasis on relaxed learning.
During this class, we'll aim to ensure that everyone completes a simple, shoe-box sized fabric basket, perfect for all kinds of storage.
Here's what we'll cover in the class:
Measuring and cutting fabric safely using rotary cutters, cutting mats and rulers.
Choosing interfacings, fusible fleece or batting/wadding
Applying interfacing and/or fusible fleece
Topstitching for a professional-looking finish
As well as going home with a completed basket, you'll also have a detailed pattern and explanatory notes to take away, along with loads of confidence for your next sewing project.
Tea, coffee and biscuits will be provided.
You will need to bring the following supplies to the class:
2 half metre pieces of quilting cotton
1/2 metre single sided Bosal In R Form
1/2 metre single sided medium weight woven iron-on interfacing
Sewing thread
Basic sewing kit, including pins and dressmaking scissors and machine needles for your own machine
Sewing machine – or machines are available to hire if you prefer
We will give you more detailed information of fabrics etc. when you book and we are very happy to help with your choices, or we can put a kit together for you (with your guidance on colour and style) if you prefer.

Skills needed - You will need to be familiar with your sewing machine and know how to use a straight stitch.
Workshop Times - 10.00am - 1pm
Tutor - Ali Burdon from Very Berry Handmade
Availability - 6 Places
Workshops Location - Hollies Haberdashery, 19 Barracks Court, Barracks Road, Newcastle under Lyme, ST5 1LG
Plenty of FREE parking available.
Have any questions?
Pop us an email orders@hollieshaberadshery.co.uk or phone us on 01782 610 241