Sew Simple Super-Soft 80/20 Cotton Blend Wadding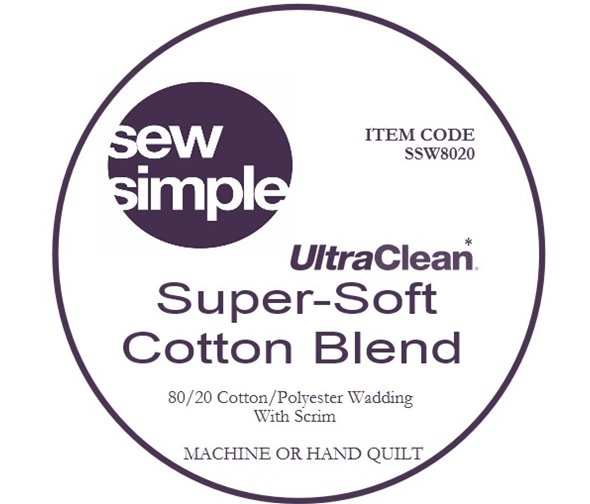 Sew Simple Super-Soft 80/20 Cotton Blend Wadding
Sew Simple Super-Soft 80/20 Cotton Blend Wadding
Material - 80% Cotton 20% Polyester
Width - 90'' 229cm wide
Machine or hand quilt up to 10" apart
Made with long-staple cotton and the softest of polyester
No chemicals and No bleaching
We recommend pre-washing prior to use.
Hand wash and dry naturally
Use cool water and mild detergent, soak for 15 minutes, squeeze out excess moisture by rolling in a dry towel dry naturally by laying flat.
Shrinkage less than 5%
Do not machine wash or dry batting before quilting
If pre-washing batting is not desired we recommend that directly after completing your quilt 'super-soft cotton blend' batting should be machine washed with mild detergent and dried on the delicate cycle or hand washed and dried naturally.
This will help to prevent tiny oil spots from the cotton seed or hull remnants.
*Ultra Clean is a brand name is TJ Beall Co. produced and tested in accordance with the Oeko Tex Standard 100 for harmful substance. The process involves no bleaching or chemicals and removes over 99.9% of foreign matter.